Minifantasy - Weapons
A downloadable asset pack
Get this asset pack and 36 more for $54.90 USD
View bundle
Minifantasy - Weapons
---
Minifantasy is one of the largest top-down fantasy asset collections out there, and definitely the largest at 8x8 res! It is perfect for prototyping or making polished games full of character.
Originally released in April 2020, it has been expanded with a new asset pack every month since then. Minifantasy will keep expanding with a constant stream of regular new content.
Minifantasy Bundles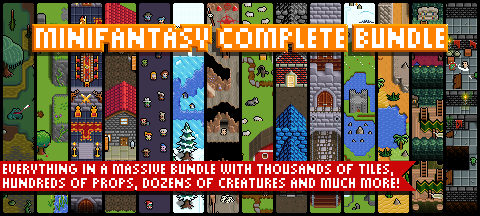 * Essentials Bundle and Expansion Bundle contains different packs. There are no repeated packs in those bundles.
** Complete Bundle contains all the assets in the collection, including the ones from Essentials Bundle and Expansion Bundle.
Do you want to try some of the packs in the collection first? Check out these Minifantasy FREE asset packs!
---
Welcome to Minifantasy - Weapons, a charming asset pack with tons of combat animations for top-down view and platformer fantasy games. These animations and models have been created to work with 8x8px tilesets.
The size of every frame of every creature is 32x32px. The different animations of a given creature are aligned to ensure a smooth transition between the different animations. Add them easily to your game engine and start to use them straight up!
What does this asset pack include?
The animations of this pack are created in separated layers. You can mix and match character layers and weapon layers to create over 120 combat animations.
All animations of this pack are available for 6 different characters:
Human
Halfling
Goblin
Elf
Orc
Dwarf
There are 14 different weapons included in this pack:
Dagger
Sword
Axe
Spear
Pitchfork
whip
Flail
Longsword
War Axe
Bow
Slingshot
Buckler
Wooden Shield
Iron Shield
6 different animation types for every character depending on the weapon type:
Thrust
Swing
Slash
Shot
Two-Handed
Guard
7 special charged attack animations:
Dagger
Sword
Axe
Spear
Pitchfork
Longsword
War Axe
- - - - -
- - - - -
There is also available an Official SFX Pack for Minifantasy - Weapons by Leohpaz
- - - - -
Do you like Minifantasy asset packs? Support me on Patreon!

From just $3/month, you get:
A new Minifantasy asset pack on Itch every month
Patreon exclusive monthly Content (new creatures, extra features and icons)
Instant access to the Minifantasy exclusive archive containing all those juicy Minifantasy extras!
Voting rights to decide the theme of the next Minifantasy pack.
Access to our amazing and super talented Dev Community in Discord
50% OFF coupons for any previously released pack
If you want to influence Minifantasy direction, higher tiers also get:

Voting rights to decide the Patreon exclusive sprites.
Rights to Suggest Minifantasy pack themes. These suggestions go to the monthly poll.
Rights to suggest Patreon exclusive sprites (new creatures, extra features and icons). These suggestions go to the monthly poll.

- - - - -
Commercial License:
By acquiring this asset pack:
1) You are allowed to:
a) Use all the assets included in this pack in your own non-commercial or commercial videogame or audio-visual digital project an unlimited number of times.
b) Edit and alter the assets included in this pack with the purpose of including them in your own non-commercial or commercial video game or audio-visual digital project.
2) You are NOT allowed to:
a) Re-distribute or re-sell any of the assets included in this pack, or any altered versions of them, as games assets or images.
3) You must:
a) Credit me (Krishna Palacio) in your video game or audio-visual digital project credits.
b) Send me a link to the project upon completion.
- - - - -
Other Minifantasy Asset Packs
Purchase
Get this asset pack and 36 more for $54.90 USD
View bundle
In order to download this asset pack you must purchase it at or above the minimum price of $5.99 USD. You will get access to the following files:
Minifantasy_Weapons_v2.2.rar
167 kB
Minifantasy_Weapons_v2.2.zip
201 kB
Comments
Log in with itch.io to leave a comment.
Hi!
Are the weapon animations overlays or baked with the 6 sprites they're compatible with? (I'm hoping for the 1st option)
Hi Krishna, I just released a game with your weapon assets, just look at my profile page. I'am not sure how to contact you otherwise :) Keep up the good work.
Do you have a pack including clothes and/or amour for these characters?
Hi! This is a commonly asked question. So I will repost an answer about it I shared recently:

"There are some outfits for the humanoid characters (human, elf, orc, goblin, halfling and dwarf) available in Patreon. But they are only covering the base animations: idle, walk, attack, dmg and die, and also the spell animations for the wizard outfits. The outfit system is very difficult to handle in an ever-growing open-ended collection like Minifantasy.

The reason is that I often introduce new animations for the 6 humanoid characters in new asset packs (for example, the crafting and professions asset pack include a lot of animations to use the workbenches, the fishing animation, bug catching animation, etc.) To maintain a collection of updated and usable outfits I would need to make new animations for every piece of the already existing outfits to match the newly added animations. It will just add more and more work if I decide to add a new outfit, as there are more and more animations being added.

As I would need to retrospectively update every outfit, it will lead to a point where I spend more time maintaining outfits than making new real content. That's why I decided to stop adding "official" outfits for the playable characters.

For the NPCs in the NPC pack, it is a different situation because those characters animations are limited and they will not receive new animations, So I don't need to worry about retrospective updates.

Other devs in the community using Minifantasy assets approached this problem making the outfits needed in their games adapting the outfits you can find on Patreon and in the myriad of NPC's pack as a template, manually or coding the rules."

I'm sorry for the inconvenience it may cause you. If you have more questions feel free to ask me :)
Thanks for the quick reply. I understand why clothes would be an issue for further animations. I was just hoping there was maybe a pack that covered a few clothing options for the weapons bundle. Or possibly animations for the NPCs to use those weapons. I think I'll just be using little naked dudes. But thanks anyway. Incredible assets.
Edit: actually looking more into everything included I think I could make a great village/community building game. No worries.
Hi, can you add another payment method because paypal is not usable in my country
Hi, Ahmet Kusoglu. Thanks for reaching me. Unfortunately, I can not set up Stripe (the alternative to Paypal provided by itch) in the country I currently live. If you wish, contact me through Twitter @Krishna_Palacio to try to figure out an alternative.
Hi! Are the weapon attacks in all directions?
Hi StormtrooperJon! Yes, attacks are in the 4 directions :)
Hello, i am about to pledge you on patreon but i wanted to know will i get all the previous released exclusive content ? Will the coupon be appliable on the active bundle ?
Hello Arkeid0s!
All exclusive Patreon content is available for $3 tier and above, including past months exclusives. Since the Patreon page is only two months old, I have released 2 exclusives (animated lava pit tileset for the dungeon and ancient statues for forgotten plains). August Exclusive will be released very soon!
The 50% discount for patrons in already released packs applies to asset pack base price (becoming $1.50 per item instead of the usual $2.99). The discount doesn't apply to bundle price.
Thank you for considering supporting me at Patreon. If you have any other question let me know :)