Minifantasy - Creatures
A downloadable asset pack
Get this asset pack and 5 more for $13.45 USD
View bundle
Minifantasy - Creatures
This pack is fully compatible with other Minifantasy asset packs. Try now Minifantasy - Dungeon a complete and totally free asset pack. you gonna love it!

Check out Minifantasy - Weapons, create over 120 combat animations with 6 characters and 14 different weapons! Minifantasy - Forgotten Plains, a tileset with over 110 tiles + decoration sprites! And Minifantasy - Towns a tileset with over 330 tiles + over 100 props and furniture sprites!
Welcome to Minifantasy - Creatures, a charming asset pack with tons of animations for top-down view and platformer fantasy games. This creatures have been created to work with 8x8px tilesets.

The size of every frame of every creature is 32x32px. The different animations of a given creature are aligned to ensure smooth transition between the different animations. Add them easily to your game engine and start to use them straight up!
This asset pack will expand for free every month with new creatures, existing creatures variations and new animations. In the image below you can see recently added models (August Update, blue mother slime and blue slime )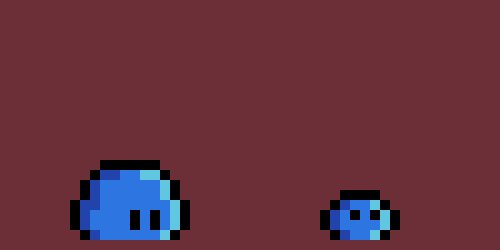 Do you have suggestions? Don't hesitate to let me know in comments! your idea might be added in the next update :D
What does this asset pack include?
24 fantasy creatures. Including different types of humanoids, monsters and animals
140 animation cycles
Idle ,walk, jump, attack, damaged and die animations for every creature, most of them in four directions!
Charged attack animations for humanoids
Shadows for all the creatures available
Organized Individual sprite sheets for each animation cycle and creature type
Creatures full list:
Humanoids:
Human (base, townsfolk, amazon)
Orc (base, wild orc)
Dwarf (base, yellow beard)
Elf
goblin
Halfling
trasgo
Beasts:
Monsters:
Skeleton
Wildfire
Slime (green and blue)
Centaur
Big Guys:
Troll
Minotaur
Mother slime (green and blue)
Wargo
Cyclop
The main file contains all past updates. You can also download the last monthly update separately if you already have download the main file previously
- - - - -
Do you like Minifantasy asset packs? Support me in Patreon! You will get more Minifantasy asset packs, while your support allows me to pay my bills and put more hours into pixel art :) Click the button below and have a look!

- - - - -
License:
By acquiring this asset pack:
1) You are allowed to:
a) Use all the assets included in your own non-commercial or commercial video game or audio-visual digital project an unlimited number of times.
b) Edit and alter the assets included with the purpose of including them in your own non-commercial or commercial video game or audio-visual digital project.
2) You are not allowed to:
a) Re-distribute or re-sell any of the assets included in this pack, or any altered versions of them, as games assets or images.
3) You must:
a) Credit me (Krishna Palacio) in your video game or audio-visual digital project credits.
b) Send me a link to the project upon completion.
- - - - -
Other Minifantasy Asset Packs
Purchase
Get this asset pack and 5 more for $13.45 USD
View bundle
In order to download this asset pack you must purchase it at or above the minimum price of $2.99 USD. You will get access to the following files:
NEWMinifantasy_Creatures v1.0.rar
531 kB
NEWMinifantasy_Creatures v1.0.zip
577 kB
Comments
Log in with itch.io to leave a comment.
I'm watching your work closely. Deeply impressed.
Hi Rakshit Ranjan, I am very glad you like my work and I totally understand your point, but you also have to understand that I put many hours of work in making this asset pack. I'm an aspiring full time pixel artist and currently I'm investing all my time in different pixel art projects. Pixel art is my only income source. I think $ 2.99 is a very reasonable price for the amount of content offered in the pack, of course it is subjective and it might be very expensive for some people, and I totally understand that, but unfortunatly I'll not make this asset pack a free one. I hope you can understand my reasons.