Minifantasy - Creatures
A downloadable asset pack
Get this asset pack and 36 more for $54.90 USD
View bundle
Minifantasy - Creatures
---
Minifantasy is one of the largest top-down fantasy asset collections out there, and definitely the largest at 8x8 res! It is perfect for prototyping or making polished games full of character.
Originally released in April 2020, it has been expanded with a new asset pack every month since then. Minifantasy will keep expanding with a constant stream of regular new content.
Minifantasy Bundles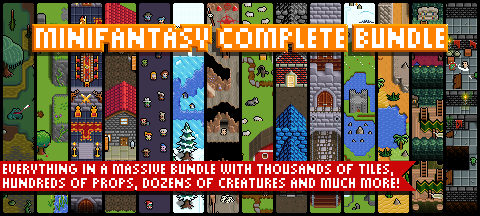 * Essentials Bundle and Expansion Bundle contains different packs. There are no repeated packs in those bundles.
** Complete Bundle contains all the assets in the collection, including the ones from Essentials Bundle and Expansion Bundle.
Do you want to try some of the packs in the collection first? Check out these Minifantasy FREE asset packs!
---

Welcome to Minifantasy - Creatures, a charming asset pack with tons of animations for top-down view fantasy games. These creatures have been created to work with 8x8px tilesets.

The size of every frame of every creature is 32x32px. The different animations of a given creature are aligned to ensure a smooth transition between the different animations. Add them easily to your game engine and start to use them straight up!

What does this asset pack include?
28 fantasy creatures. Including different types of humanoids, monsters and animals
A total of 158 animation cycles
Idle, walk, jump, attack, damaged and die animations for every creature, most of them in four directions!
Charged attack animations for humanoids
Shadows for all the creatures available
Organized Individual sprite sheets for each animation cycle and creature type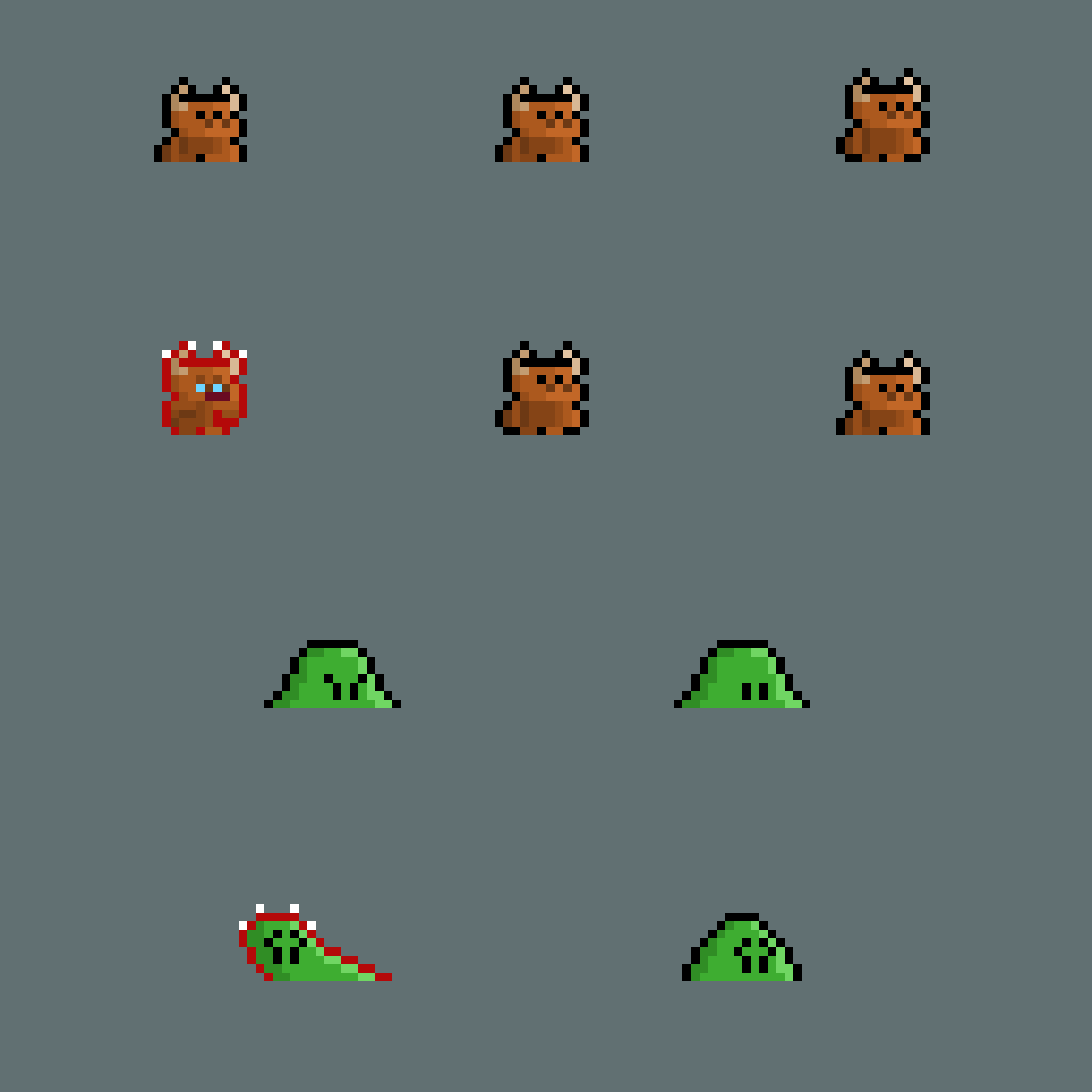 Creatures full list:
Humanoids:
Human (base, townsfolk, amazon)
Orc (base, wild orc)
Dwarf (base, yellow beard)
Elf
goblin
Halfling
Trasgo
Beasts:
Monsters:
Skeleton
Wildfire
Slime (green and blue)
Centaur
Zombie
Pumpkin Horror
Evil Snowman
Big Guys:
Troll
Minotaur
Mother slime (green and blue)
Wargo
Cyclop
Yeti
- - - - -
There is also available an Official SFX Pack for Minifantasy - Creatures by Leohpaz
- - - - -

Do you like Minifantasy asset packs? Support me on Patreon!

From just $3/month, you get:
A new Minifantasy asset pack on Itch every month
Patreon exclusive monthly Content (new creatures, extra features and icons)
Instant access to the Minifantasy exclusive archive containing all those juicy Minifantasy extras!
Voting rights to decide the theme of the next Minifantasy pack.
Access to our amazing and super talented Dev Community in Discord
50% OFF coupons for any previously released pack
If you want to influence Minifantasy direction, higher tiers also get:
Voting rights to decide the Patreon exclusive sprites.
Rights to Suggest Minifantasy pack themes. These suggestions go to the monthly poll.
Rights to suggest Patreon exclusive sprites (new creatures, extra features and icons). These suggestions go to the monthly poll.

- - - - -
Commercial License:
By acquiring this asset pack:
1) You are allowed to:
a) Use all the assets included in this pack in your own non-commercial or commercial videogame or audio-visual digital project an unlimited number of times.
b) Edit and alter the assets included in this pack with the purpose of including them in your own non-commercial or commercial video game or audio-visual digital project.
2) You are NOT allowed to:
a) Re-distribute or re-sell any of the assets included in this pack, or any altered versions of them, as games assets or images.
3) You must:
a) Credit me (Krishna Palacio) in your video game or audio-visual digital project credits.
b) Send me a link to the project upon completion.
- - - - -
Other Minifantasy Asset Packs
Purchase
Get this asset pack and 36 more for $54.90 USD
View bundle
In order to download this asset pack you must purchase it at or above the minimum price of $5.99 USD. You will get access to the following files:
Minifantasy_Creatures_v3.0.rar
495 kB
Minifantasy_Creatures_v3.0.zip
552 kB
Comments
Log in with itch.io to leave a comment.
Awesome work, do you also have ranged creatures except the snowman? :)
Me encanta tu trabajo!, tengo una pregunta, si compro los sprites, los puedo usar comercialmente en un juego? se me vienen un montón de ideas a la cabeza con tan solo ver tantos sprites!
Muchas gracias Emitanc :) Si adquieres los paquetes puedes usar los assets en proyectos comerciales sin ningún problema. Si tienes cualquier otra duda déjamelo saber. Un saludo!
I made a game using a few of your monsters and a couple of your tilesets for a class at university two semesters back. I decided to go ahead and upload the game now. So, here is a link! (I don't know where else to send it, I hope this meets your requirements, lol)
https://jeremyglebe.itch.io/spire-panic
Worth it the little dudes are so cool.
I'm watching your work closely. Deeply impressed.
Hi Rakshit Ranjan, I am very glad you like my work and I totally understand your point, but you also have to understand that I put many hours of work in making this asset pack. I'm an aspiring full time pixel artist and currently I'm investing all my time in different pixel art projects. Pixel art is my only income source. I think $ 2.99 is a very reasonable price for the amount of content offered in the pack, of course it is subjective and it might be very expensive for some people, and I totally understand that, but unfortunatly I'll not make this asset pack a free one. I hope you can understand my reasons.