Minifantasy - Dungeon
Minifantasy Dungeon SFX pack
---
Hi everyone!

Today I bring some excellent news. The official SFX pack for Minifantasy - Dungeon is already out!
This is an independent side project led by the sound engineer, musician and fellow game asset creator Leohpaz.
All the sounds designed by Leohpaz included in his SFX pack match perfectly with the assets in Minifantasy - Dungeon, already selected and ready to use out of the box. Isn't that awesome? 😃
Leohpaz and I want to keep expanding Minifantasy with more official SFX packs. If you are interested in such content, go to Leohpaz's Itch project page, download the pack and share some love by leaving a rate or a comment.
https://leohpaz.itch.io/minifantasy-dungeon-sfx-pack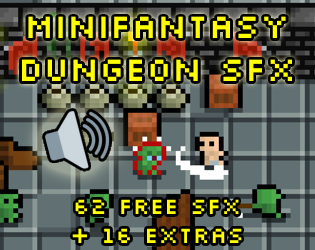 Get Minifantasy - Dungeon